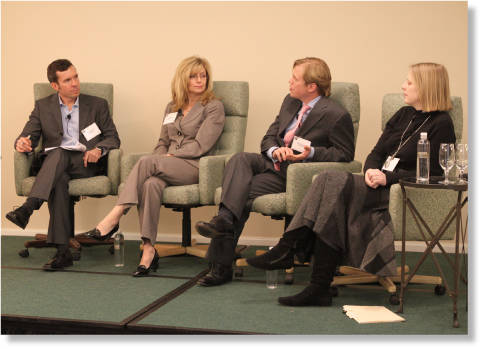 [1]The hot topic du jour at IR magazine's West Coast Think Tank 2010 [2], an invitation-only event held in Palo Alto, California on March 18, was social media – the good, the bad and the ugly. Social media is definitely a love-hate relationship for the investor relations officer and the publicly traded company. It seems that larger companies are more out there with Twitter feeds, blogs and Facebook pages than are smaller companies, and several attendees suggested it's because larger (and often retail) brands tend to be earlier adopters and have more resources to dedicate to social media. But that also puts them at greater regulatory risk.
While legal departments and management across all industries and company sizes are busy setting internal policies and responding to leaks and rumors, IROs are finding creative ways to take advantage of all that social media has to offer [3]. They're able to monitor online chatter, correct inaccuracies and even alter investor, shareholder and analyst misperceptions. One thing is certain: Social media opens up new communication channels that appeal to a wide range of audiences, and adding videos can personalize messages from rarely seen senior executives and even make proxy selection easier.
Although social media echoed off and on throughout the day, the discussion veered to an issue brought to the forefront during these recessionary times: the activist investor who targets publicly traded companies under financial duress. Led by a well-known activist, the session gave IROs tips and tactics for minimizing disruption through honest and open communication.
Another challenge brought to the forefront is the spate of regulatory bills coming out of Washington that promises to make the lives of already-over-taxed IROs even busier.  Companies are trying to be as transparent as possible, but it is getting increasingly difficult to focus on long-term strategy because of the need to spend so much time and attention on compliance.
Drawing to the day's close, the discussion turned to assessing success. Were IROs able to communicate their key messages well?  Did their efforts translate into positive results and revenue flow? Today, more than ever before, the C-suite and board want and demand accurate metrics. In response, IROs are diligent in setting goals and gathering market intelligence from multiple sources throughout the year and tracking and reporting on quarterly and annual trends.
This event, sponsored by Marketwire and held for the fifth year in a row, is always an eagerly anticipated forum where attendees let down their hair to openly discuss issues and share best practices. And again, Marketwire held an Ask the Expert [4] session that gave participants an opportunity to provide their insights and offer advice for the new investor relations professional.

Related posts: